KĪRTAN ILLUMINATIONS
SAṀSĀRA-DĀVĀNALA-LĪḌHA-LOKA
How Śrī Guru extinguishes the soul's suffering in saṁsāra
By Śrīla Viśvanāth Chakravartī Ṭhākur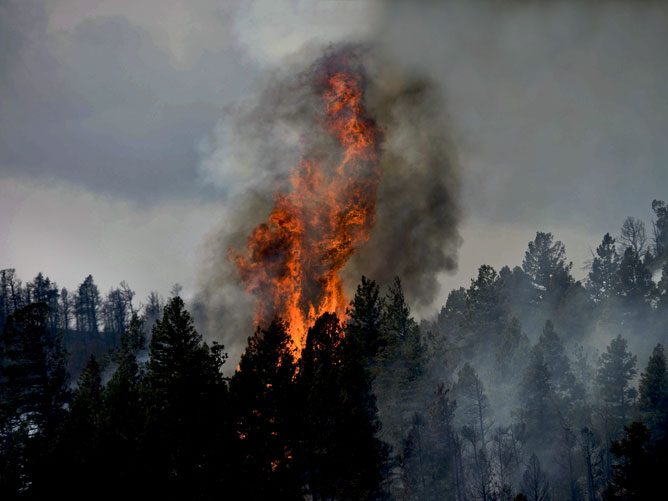 The following is a translation and commentary on the first verse of Śrīla Viśvanāth Chakravartī Ṭhākur's Śrī Gurvaṣṭakam. The commentary following the verse translation is formatted in a series of entires in the following format: (1) a transliterated word or phrase from the original text, (2) the gloss thereof from the prose translation, and (3) commentary thereupon supported by references to and citations from śāstra (scripture) and the teachings of the Āchāryas of the Śrī Rūpānuga sampradāya.
Śrī Gurvaṣṭakam
Verse 1
সংসার-দাবানল-লীঢ়-লোক-
ত্রাণায় কারুণ্য-ঘনাঘনত্বম্ ।
প্রাপ্তস্য কল্যাণ-গুণার্ণবস্য
বন্দে গুরোঃ শ্রীচরণারবিন্দম্ ॥১॥
saṁsāra-dāvānala-līḍha-loka-
trāṇāya kāruṇya-ghanāghanatvam
prāptasya kalyāṇa-guṇārṇavasya
vande guroḥ śrī-charaṇāravindam [1]
vande–I offer [my] obeisance śrī–unto the holy aravindam–lotus charaṇa–feet guroḥ–of the divine master, arṇavasya–the ocean kalyāṇa–of auspicious guṇa–qualities [who] prāptasya–assumes ghanāghanatvam–the form of a dense cloud kāruṇya–of compassion trāṇāya–to deliver loka–souls līḍha–swallowed dāva–by forest anala–fire saṁsāra–of material existence. [1]
I offer my obeisance unto the holy lotus feet of Śrī Guru, the ocean of auspicious qualities who assumes the form of a dense cloud of compassion to deliver souls swallowed by the forest fire of material existence.
saṁsāra: "Material existence." The term saṁsāra, often loosely understood to mean material existence as a whole, is defined literally as samyak sarati asmin iti saṁsāraḥ, "That within which there is constant movement", and connotes more specifically transmigration, that is, the condition in which the soul passes continuously through a succession of material bodies repeatedly undergoing birth, disease, old age, and death in perpetuity.
dāvānala: "Forest fire." Dāvānala implies not only a fire in a forest but the conflagration of a forest. The suffering souls throughout saṁsāra encounter is vast, intense, inescapable, and impossible to extinguish by their own means. This is the intent of the metaphor. The suffering of saṁsāra is compared to the pain produced by intense heat (tāpa) and is categorised in three divisions[1]: (1) ādhyātmika-tāpa, suffering caused by one's own self, esp. the body and mind, (2) ādhibhautika-tāpa, suffering caused by other living beings, and (3) ādhidaivika-tāpa, suffering caused by the gods who control the forces of nature.
līḍha: "Swallowed." Līḍha is derived from the root lih, to lick. As flames are understood in the Vedic scriptures to be the tongues of a fire, here līḍha in compound with dāvānala means literally 'licked' and more generally 'swallowed' by the forest fire of saṁsāra.
loka: "Souls." While loka typically connotes simply 'people in general' more so than 'souls', because of its usage in relation to saṁsāra it should be understood here to refer to people in the sense of eternal living beings transmigrating throughout material existence.
saṁsāra-dāvānala-līḍha-loka: "Souls swallowed by the forest fire of material existence." This description is meant to ignite a sense of paramount urgency in reaching the shelter of Śrī Guru:
janana-maraṇādi-saṁsāranala-santapto dīpta-śirā
jala-rāśim iva upahāra-pāniḥ śrotriyaṁ
brahma-niṣṭhaṁ gurum upasṛtya tam anusarati
(Vedānta-sāra: 11)
"One who is burning in the fire of saṁsāra—birth, death, and so forth—should with offering in hand approach and submit to a Guru who is learned in the scriptures and fixed in the Absolute just as one whose head is on fire runs towards a body of water."
trāṇāya: "To deliver." While the root trai, from which trāṇāya is derived, most commonly means 'to protect', the meaning to be taken here is paritrai, 'to fully protect', that is, 'to rescue or deliver'. There are many means by which the soul can find temporary, limited protection from the suffering throughout saṁsāra, but only a genuine Guru can fully protect the soul from saṁsāra, that is, only a genuine Guru can remove the root cause of the soul being subject to saṁsāra and thus deliver the soul from immeasureable future suffering.
The cause of the soul being subject to saṁsāra is avidyā[2] (ignorance, illusion):
yayā kṣetra-jña-śaktiḥ sā veṣṭitā nṛpa sarva-gā
saṁsāra-tāpān akhilān avāpnoty atra santatān
(Viṣṇu-purāṇa: 6.7.62)
"Enveloped by avidyā, the soul, though capable of going everywhere, undergoes here (in material existence) all the continuous sufferings of saṁsāra."
Avidyā has two primary functions[3]: (1) āvaraṇātmikā: covering the soul's natural awareness, and (2) vikṣepātmikā: casting the soul into other forms of awareness. The āvaraṇātmikā function is often synonymous with avidyā or known as ajñān (ignorance)[4]. The vikṣepātmikā function is also known as asmitā (egotism)[5] and gives rise to attraction, aversion, and immersion in the unreal (rāga, dveṣa, and abhiniveśa)[6].
jīvasya saṁsṛtīr bahvīr avidyā-karma-nirmitāḥ
yāsv aṅga praviśann ātmā na veda gatim ātmanaḥ
(Śrīmad Bhāgavatam: 3.32.38)
"Passing through numerous transmigrations caused by action (karma) under the influence of avidyā, souls cannot understand their own condition."
śoka-mohau sukhaṁ duḥkhaṁ dehāpattiś cha māyayā
svapno yathātmanaḥ khyātiḥ saṁsṛtir na tu vāstavī
(Śrīmad Bhāgavatam: 11.11.2)
"As a dream is only a perception of the mind, so saṁsāra made up of lamentation, illusion, happiness, distress, and transmigration as a result of avidyā is actually unreal."
The exact function of Śrī Guru in delivering souls suffering in saṁsāra is liberating them from the ignorance that causes it and not merely teaching them methods of partially alleviating its effects (the sufferings caused by the self, others, and natural forces). Liberation is defined in precisely this manner in Śrīmad Bhāgavatam (2.10.6):
muktir hitvānyathā rūpaṁ sva-rūpeṇa vyavasthitiḥ
"Liberation is to have abandoned all other natures and become fully situated in one's true nature."
Śrī Guru is thus worshipped daily with this prayer:
om ajñāna-timirāndhasya jñānāñjana-śalākayā
chakṣur unmilitaṁ yena tasmai śrī-gurave namaḥ
(Śrī Prema-bhakti-chandrikā: 1)
"I offer my obeisance unto Śrī Guru, who has opened my eyes, which were blinded by the darkness of ignorance, with the collyrium of divine knowledge."
The divine knowledge Śrī Guru bestows on the soul is in essence understanding of the cause of ignorance itself: aversion to the Lord[7],
īśād apetasya viparyayo 'smṛtiḥ
(Śrīmad Bhāgavatam: 11.2.37)
"Forgetfulness (of the true self—avidyā) and misconception (of one's identity—asmitā) arise by the influence of the Lord's illusion for those who are averse the Lord."
kṛṣṇa bhuli' sei jīva anādi-bahirmukha
ataeva māyā tāre deya saṁsāra-duḥkha
(Śrī Chaitanya-charitāmṛta: Madhya-līlā, 20.117)
"Forgetting Kṛṣṇa, souls become averse to Kṛṣṇa beginninglessly, and Māyā (the Lord's material energy) therefore subjects them to the suffering of saṁsāra."
kṛṣṇa-bahirmukha hañā bhoga vāñchhā kare
nikaṭastha māyā tāre jāpaṭiyā dhare
piśachī pāile yena mati-chchhanna haya
māyā-grasta jīvera haya se bhāva udaya
māyāra naphara hañā chira-dina bule
kabhu rājā kabhu prajā kabhu vipra śūdra
kabhu duḥkhī kabhu sukhī kabhu kīṭa kṣudra
kabhu svarge, kabhu martye, narake vā kabhu
kabhu deva, kabhu daitya, kabhu dāsa prabhu
(Śrī Śrī Prema-vivarta: 6.2–6)
"When souls become averse to Kṛṣṇa and desire enjoyment, nearby Māyā seizes them. When someone is possessed by a ghost, they become bewildered. This condition overtakes souls bound by Māyā. Souls then become slaves of Māyā and wander indefinitely. Sometimes they become kings and sometimes they become subjects, sometimes brāhmaṇs and sometimes śūdras. They sometimes become sad, sometimes become happy, and sometimes become insignificant ants. They sometimes go to heaven, sometimes remain on earth, and sometimes go to hell. They sometimes become gods and sometimes become demons, sometimes servants and sometimes masters."
By Śrī Guru's grace, the soul realises the cause of all their suffering:
bhuliyā tomāre saṁsāre āsiyā
peye nānā-vidha vyathā
(Śaraṇāgati: 1.1)
"Forgetting You (O Lord) and coming into saṁsāra, I have undergone all sorts of suffering."
tuyā pada-vismṛti ā-mara yantraṇā
kleśa-dahane dahi' yāi
(Śaraṇāgati: 25.2)
"Forgetful of Your feet (O Lord), I am tormented until death, burning in a fire of suffering."
Śrī Guru teaches the soul their own natural function:
jīvera 'svarūpa' haya—kṛṣṇera 'nitya-dāsa'
(Śrī Chaitanya-charitāmṛta: Madhya-līlā, 20.108)
"The soul's nature is that of an eternal servant of Kṛṣṇa."
By understanding and sincerely putting such divine knowledge into practice according to Śrī Guru's guidance, the soul is delivered from saṁsāra:
nija-tattva jāni' āra saṁsāra nā chāya
ke̐de bale, "ohe kṛṣṇa āmi tava dāsa
tomāra charaṇa chhāḍi' haila sarva-nāśa"
kṛpā kari' kṛṣṇa tāre chhāḍāna saṁsāra
bhajite bhajite kṛṣṇa-pāda-padma pāya
(Śrī Śrī Prema-vivarta: 6.8–9, 10, 11)
"Upon understanding their true nature, the soul no longer desires saṁsāra. Crying, they say, 'O Kṛṣṇa! I am Your servant, but I have left Your feet and become utterly ruined.' Kṛṣṇa then mercifully frees the soul from saṁsāra, and by continuously serving Kṛṣṇa, the soul reaches Kṛṣṇa's lotus feet."
sādhu-saṅge kṛṣṇa-bhaktye śraddhā yadi haya
bhakti-phala 'prema' haya, saṁsāra yāya kṣaya
(Śrī Chaitanya-charitāmṛta: Madhya-līlā, 22.49)
"When the soul's faith in devotion to Kṛṣṇa arises by the association of the sādhu (Śrī Guru), then the fruit of devotion—divine love (prema)—manifests, and the soul's subjection to saṁsāra comes to an end."
Śrīla Narottam Dās Ṭhākur has thus sung of the essence of Śrī Guru's function as the liberator of the soul from material existence:
prema-bhakti yāhā haite avidyā vināśa yāte
vede gāya yāhāra charita
(Śrī Prema-bhakti-chandrikā: 1.3)
"By Śrī Guru, our avidyā is destroyed, and from Śrī Guru we receive prema-bhakti. The Vedas thus sing of his character."
ghanāghanatvam: "The form of a dense cloud." As a forest fire (not conisdering modern technology) can only be extinguished by rain clouds, so the soul can be relieved of the suffering of saṁsāra only by Śrī Guru and not by their own means. This is the intent of the cloud metaphor. Because clouds are known to extinguish forest fires with rain, the alluded to rain in the metaphor may be thought to be Śrī Guru's compassion itself (see below) or the teachings and service engagement which dispel avidyā that Śrī Guru confers upon the soul.
kāruṇya: "Compassion." Śrī Guru, moved by the irresistable flow of bhakti within the heart, delivers souls wandering throughout saṁsāra entirely out of compassion for them (not out of any form of self-interest):
guravo bahavaḥ santi śiṣya-vittāpahārakāḥ
durlabho sad-gurur devi śiṣya-santāpa-hārakaḥ
(Purāṇa-vākya)
"There are many Gurus who take the wealth of their disciples, but a genuine Guru who removes the suffering of his disciples is very rare."
To receive the grace of such a genuine Guru is the greatest fortune the soul can ever attain within saṁsāra, and thus a genuine Guru is to be mostly dearly worshipped as the living embodiment of the Supreme Lord's grace (see verse seven) and the soul's one and only source of divine prospect (see verse eight).
kalyāṇa-guṇārṇavasya: "An ocean of auspicious qualities." Śrī Guru, the best of the Lord's servants[8], is endowned with all spiritual qualities by the Lord Himself:
sarva mahā-guṇa-gaṇa vaiṣṇava-śarīre
kṛṣṇa-bhakte kṛṣṇera guṇa sakali sañchāre
saba kahā nā yāya, kari dig-daraśana
kṛpālu, akṛta-droha, satya-sāra sama
nirdoṣa, vadānya, mṛdu, śuchi, akiñchana
sarvopakāraka, śānta, kṛṣṇaika-śaraṇa
akāma, anīha, sthira, vijita-ṣaḍ-guṇa
mita-bhuk, apramatta, mānada, amānī
gambhīra, karuṇa, maitra, kavi, dakṣa, maunī
(Śrī Chaitanya-charitāmṛta: Madhya-līlā, 22.72, 74–7)
"All great qualities are present in body of a Vaiṣṇava. All of Kṛṣṇa's qualities are instilled in Kṛṣṇa's devotees. All such qualities cannot be described, so I will present an overview of them: merciful, non-violent, truthful, equipoised, faultless, magnanimous, gentle, clean, possessionless, helpful to all, peaceful, exclusively surrendered to Kṛṣṇa, desireless, detached, steadfast, victorious over the six bad qualities (lust, anger, greed, pride, bewilderment, and envy), a minimal eater, sober, respectful, modest, solemn, compassionate, friendly, poetic, expert, and silent."
Amongst the innumerable qualities of Śrī Guru, the principal qualities are emphasised repeatedly throughout the scriptures:
śrotriyaṁ brahma-niṣṭham
(Muṇḍaka-upaniṣad: 1.2.12)
"[Śrī Guru is:] learned (in the scriptures) and fixed in Brahma (the Absolute)."
jñāninas tattva-darśinaḥ
(Śrīmad Bhagavad-gītā: 4.34)
"[Śrī Guru is:] knowledgable (in the scriptures) and a seer of the truth (experienced in Parabrahma)."
śābde pare cha niṣṇātaṁ brahmaṇy upaśamāśrayam
(Śrīmad Bhāgavatam: 11.3.21)
"[Śrī Guru is:] adept in Śabda-brahma (the scriptures) and Parabrahma (direct experience of the Absolute) and is an abode of tranquility (unaffected by anger, greed, etc.)."
While the joy of ennumerating Śrī Guru's qualities is naturally difficult to restrain, the necessity of brevity is similarly ever-present, so a brief list of qualities elsewhere attributed directly to Śrī Guru in the scriptures is as follows:
śraddhāvān anasūyaś cha priya-vāk priya-darśanaḥ
śuchiḥ suveśas taruṇaḥ sarva-bhūta-hite rataḥ
dhīmān anuddhata-matiḥ pūrṇo 'hantā vimarśakaḥ
sa-guṇo 'rchāsu kṛtadhīḥ kṛtajñaḥ śiṣya-vatsalaḥ
nigrahānugrahe śakto homa-mantra-parāyaṇaḥ
ūhāpoha-prakāra-jñaḥ śuddhātmā yaḥ kṛpālayaḥ
ity ādi-lakṣaṇair yukto guruḥ syād garimā-nidhiḥ
(Śrī Hari-bhakti-vilāsa: 1.38–41)
"Faithful, non-envious, of pleasing speech, of pleasing sight, clean, well-dressed, youthful, endeavouring for the benefit of all living beings, intelligent, modest, satisfied, non-violent, discerning, virtuous, intent upon the Deity, grateful, affectionate to disciples, capable of punishing and encouraging, expert in sacrifices and mantras, adept in positive and negative reasoning, pure-hearted, and merciful—a Guru endowed with all these and other such characteristics is an ocean of dignity."
prāptasya: "Assumes." As a cloud is made up of ocean water and is an extended expression of the ocean itself yet conveys to one unacquainted with the ocean only of a fractional understanding of it, so Śrī Guru's appearance as the liberator of the soul from material existence is only an initial introduction to Śrī Guru's glory and the role Śrī Guru plays in guiding the soul in service in the eternal realm, its actual depth, breadth, beauty, and significance being far greater. This is intent of prāptasya.
vande: "I offer my obeisance." The verbal root vand, from which the verb vande is conjugated, can mean to offer obeisance, to worship, and to praise. Obeisance should be offered to Śrī Guru physically whenever one comes before him[9] and one's every thought, word, and deed in every time, place, and circumstance should be carried out in obeisance to his instructions and desires entirely for his glory and honour (lest any offence occur in the process).
guroḥ: "Of Śrī Guru." Terms of address for Śrī Guru in English such as 'Divine Master' or 'Spiritual Master' have come into customary usage and are indeed apt, but no English word can convey every sense of the word Guru. Etymologically, Guru is defined in the scriptures as the 'dispeller of darkness':
gu-śabdas tv andhakārasya ru-śabdas tan-nivārakaḥ
andhakāra-nirodhitvād gurur ity abhidhīyate
(Skanda-purāṇa)
"The syllable gu means darkness, and the syllable ru means its remover. A Guru is so called because he dispels darkness (ignorance)."
The word guru in literal usage also means 'heavy'. In relation to Śrī Guru, this meaning may be taken to refer Śrī Guru's quality of being so firm in realisation of the Absolute that (1) he is the support of all who are 'lighter' (laghu), that is, less realised, (2) he can correct all forms of 'lighter' thought, that is, misconception and lesser understanding, and (3) nothing can move him from his position. Śrī Guru has thus been described as "heavier than the Himalayas"[10].
śrī: "Holy." Śrī is an honorific prefix used before nearly all objects of worship and respect and has a broad range of meaning. Here, it may be reckoned to mean holy, divine, lustrous, beautiful, gracious, auspicious, or otherwise.
charaṇa: "Feet." Śrī Guru's feet as choosen as the object of worship to convey the humility and hankering in the heart of a disciple, their highest aspiration being to offer worship and render service to even the least aspect of Śrī Guru.
aravindam: "Lotus." Śrī Guru's feet are compared to a lotus to convey that they are pure (free from any tinge of the mundane), beautiful (attractive to the purified heart and mind), and delicate (to be treated wth the utmost care).
End Notes
1: Śrīmad Bhāgavatam: 1.1.2., 1.5.32, 3.22.32, 3.28.31, 3.31.16, 7.6.14; Śrī Chaitanya-charitāmṛta: Madhya-līlā, 20.102, 22.13. ⇧
2: Śrīmad Bhāgavatam: 3.26.7 , 3.32.38, 11.10.10, 11.11.2; Āmnāya-sūtra: 1.38.⇧
3: Paramātma-sandarbha: 54.⇧
4: Śrīmad Bhāgavatam Śrī Sāratha-varṣiṇī-ṭīkā: 3.12.2.⇧
5: Śrīmad Bhāgavatam Śrī Sāratha-varṣiṇī-ṭīkā: 3.12.2.⇧
6: Śrīmad Bhāgavatam Śrī Sāratha-varṣiṇī-ṭīkā: 3.12.2; Yoga-sūtra: 2.3.⇧
7: Āmnāya-sūtra: 1.35.⇧
8: Śrī Chaitanya-charitāmṛta: Ādi-līlā, 1.47.⇧
9: Śrī Hari-nāma-chintāmaṇi: 6.52.⇧
10: "Guru means one who dispels the darkness, and Guru means one who is heavy, who cannot be moved by any proposal. He is so well-established that no offer of any alternative knowledge or proposal can move him from his position. He is firm there, and he can help the laghu, the light, people whom anyone can handle like a play-doll. Guru can never be moved from his position, and he will sit tight there, more heavy than the Himalayas. He will face all sorts of fleeting conceptions of knowledge, break them right and left, and establish the universal characteristic of knowledge of the Absolute. He will impart Him, Brahma, the whole: he will dispel the misconceptions from every heart and establish on the throne of the heart knowledge of the Absolute." (Śrīla Bhakti Rakṣak Śrīdhar Dev-Goswāmī Mahārāj on 1 December 1981) ⇧